As a leading renewable energy provider, we know that we have a significant role to play in reducing global greenhouse gas emissions and slowing climate change.
While we generate a large amount of clean energy each year – enough to easily cover our consumption and offset our emissions – this mission extends far beyond that.
It is also about identifying and mitigating against the environmental impacts resulting from the daily activities at our offices and renewable energy projects around the world.
One of the assets providing a great example of how sustainable practices can be implemented is our 50 MW Olivenza concentrated solar power project in Badajoz, Spain.
For supervision and operations and maintenance tasks, the use of bicycles is encouraged where possible for simpler tasks which do not require heavy equipment.
However, we have recently taken an innovative step to ensure that our fleet of maintenance cars are operating in a more environmentally-friendly way, while promoting the circular economy.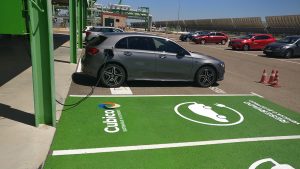 Since 2012, the Olivenza project had been accumulating ferrous waste, motors, wiring and other electrical components.
This waste is considered non-hazardous and non-polluting as it is usually recycled and processed for the manufacture of new materials.
In early 2021, we sold nearly 29 tonnes of this waste for recycling to a company specialising in scrap materials.
The profits were used to equip the project's carpark with four electric charging points for several of the cars used for plant maintenance activities.
In the near future, we plan to exchange the remaining cars for electric or plug-in hybrid models and install an additional four charging points, the cost of which will be covered by the savings made on oil for the vehicles.
As a company, we are always looking at ways to be more sustainable and recycling provides an excellent option for dealing with much of our waste.
In 2020, we generated 575 tonnes of non-hazardous waste and 64% was recycled.
The majority of our hazardous waste is broken equipment, which we send to recycling partners where possible.
Additionally, when larger components fail we often have a substitution arrangement in place with the maintenance providers in which a failed component goes for refurbishment and we accept a reconditioned component in its place.
For more information on our sustainability practices, read our ESG report.