As part of its commitment to sustainability, Cubico Sustainable Investments (Cubico) has published its inaugural environmental, social and governance (ESG) report.
The report gives an overview of the company's operations, summarises its approach to ESG factors and highlights key achievements, as well as including data from its global portfolio.
With a focus on performance during 2020, it documents how Cubico added around 1.5 gigawatts of renewable energy to its portfolio through the acquisition of 38 new assets.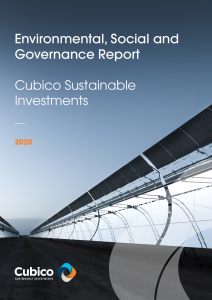 This led to an all-time high annual energy generation of 6,430 gigawatt hours, which contributed to the avoidance of around 1.6 million tonnes of carbon dioxide equivalent.
In addition, the report includes a range of environmental and social case studies on global initiatives created and supported by the company's corporate social responsibility programme.
At a time when companies are becoming more transparent about the impacts of their operations, this report is a demonstration of Cubico's commitment to the highest standards of ESG reporting and planning.
Addressing this within his opening comments in the report, Steve Riley, Chief Executive Officer of Cubico, said: "This inaugural report marks a significant step forward for us. The 2020 data and metrics reported here will serve as our baseline for future reports.
"As our portfolio continues to grow and our sustainability efforts continue to evolve, we expect to expand our disclosures in future years."
The content of the report was informed by the Global Reporting Initiative.
It follows Cubico's recent GRESB Infrastructure Assessment, which is the leading global infrastructure sustainability disclosure and benchmark tool for validating ESG performance, in which it scored 78 out of 100.
This industry-leading score puts the company nearly 10% above the sector average and almost 20% above the overall average for companies assessed.
To learn more, read the report.