The document, which highlights the company's commitment to the highest standards of ESG reporting and planning, gives an overview of Cubico's operations, summarises its approach to ESG factors and shares a number of case studies.
At a time when conversations around corporate sustainability demand greater transparency, the report also includes a range of performance data.
During 2021, the company grew its global portfolio in 12 countries to more than 5 gigawatts, comprising over 170 assets in development, construction and operation.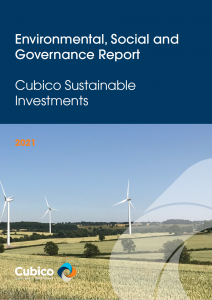 This resulted in increased energy generation – to 6,828 gigawatt hours – for the sixth consecutive year and the avoidance of more than 1.6 million tonnes of carbon dioxide equivalent.
During his opening address in the report, Cubico's Chief Executive Officer David Swindin noted that sustainability is an important element when it comes to corporate growth.
"As we continue to expand our business to new geographies and economic sectors, we have made sure our sustainability efforts have grown in tandem," he said.
The results of the company's latest GRESB Infrastructure Assessment, the leading global infrastructure sustainability disclosure and benchmark tool for validating ESG performance, highlight this.
Cubico increased its score by nearly 15% from 2020 to 2021, attaining an industry-leading five-star rating.
Commending the team effort behind another year of improved sustainability performance, David added: "The accomplishments highlighted in this report would not be possible without the tremendous commitment of our employees.
"Indeed, our people are the foundation of every aspect of our sustainability performance."
The content of Cubico's ESG report was informed by the Global Reporting Initiative.
Read the report to learn more.